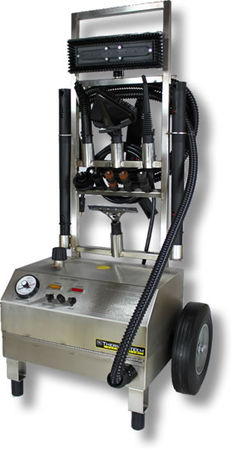 Steamer - Therma-Steem #10 Commercial Grade Vapor Steam Cleaner
Manufactured in the USA, the THERMA-STEEM® #10 is made with a heavy duty 10" rubber wheels and 3" front legs for better maneuverability and ground clearance. Constructed with a commercial grade, stainless steel body, boiler, incoloy heating element, pressure and temperature at 100 PSI/ 6.8 bar and 330°F/ 170°C. The #10 is also equipped with all the standard accessories and a removable handle for easy storage.

The THERMA-STEEM® models are used in many car detailing shops (we provide a detailing package), hospitals, veterinary clinics, hotels, restaurants, food processing plants, schools and universities, just to name a few. Our units are ideal for the interior cleaning and de-greasing of ovens, refrigerators (including the condenser coils), cooking vats, prep areas, and conveyor belts. It is great for cleaning tile, grout, natural stones, hard wood floors, windows, lighting fixtures, pots, pans, air conditioning filters, return vents, deodorizing dining and seating areas, carpeting, removes gum (see video), and an ever growing list of equipment.

This machine delivers 97% dry vapor, so it can be used to clean walls, ceilings, mattresses, sanitize bathrooms and patient rooms between appointments, remove mildew, odorous mold fungus, and eliminate nicotine and residue buildup. Because of the maximum temperatures reached by this dry vapor steam cleaner, it can be used to eradicate bed bugs and dust mites. It can even be used in kosher establishments to "kasherize" equipment.