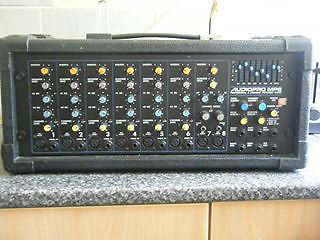 PA - Audiopro 8 Channel Powered Mixer
2x 160w, 8 inputs Mixer/Amp
The MP8D eight channel dual powered mixer has 160W/ch, mains/monitors patchable @ 8 ohms. Features include dual RCA inputs on Ch. 7 & 8 and 32 preset digital effects processor. Other features include: effects-to-monitors, 9-band graphic EQ, phantom power, multiple clip indicators to detect distortion throughout the signal path.
Weight: 30